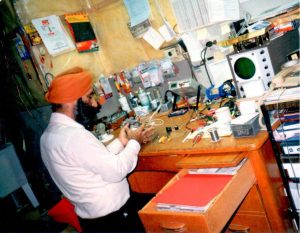 After working for British Airways as an Electrical Technician in England for several years, Harbhajan Singh Mushiana decided Canada offered a better chance of opportunity for himself and his family. 1975 proved to be a difficult time for visible minorities in Canada and job opportunities were limited but he soon recognized a growing need in the Plastics Industry for a reliable partner in repairs for temperature controls and custom electrical solutions.
With the support and his wife, his determination and his skillful knowledge in the electrical field, he decided to open his own business and offer the utmost in customer service and to offer solutions based upon in-house technical knowledge, wide product offering and quick turnaround time. In 1983 AceTronic was born.
AceTronic is heading into its third generation of business and by staying true to our origins we have grown and continue to grow in becoming a leader of comprehensive manufacturing and distribution for standard and custom solutions in the plastic industry as well as an extension of our customers Preventative Maintenance program team.
We are proud and active members of the Canadian Aboriginal Minority Supplier Council (CAMSC), Women's Business Enterprise Network (WBENC) the Women's Business Enterprise (WBE) the Canadian Association of Mold Makers (CAMM) and the Canadian Plastics Industry Association (CPIA).
We take pride in building long standing relationships with our customers and partners. We look forward to doing the same with you!
What We Manufacture & Distribute
All in house manufactured products came about from providing our customers with simpler solutions.
"I am extremely happy with the Preheating Panel custom designed and manufactured by AceTronic. It works well and was incredibly easy to use." – Engineer Controls @ Kautex-Textron
We manufacture Hot Runner Temperature Control Systems, complete with temperature control modules, mold power or thermocouple cables, floor stands, and our very own Thermolator, Thermocline®.
Our Hot Runner Temperature Control System, "The Q-Star Titan", utilizing ADAPTIVE PINPOINT CONTROL TECHNOLOGY ALGORITHMS, delivers the ultimate in temperature control capabilities. Available from 12 to 240 zones, modular 15 amp controller cards make servicing easy and reduces downtime significantly. The intuitive 10.1" high resolution LCD touchscreen interface is simple to navigate and advanced users can take advantage of its extended options. The Q-Star Titan features Uniform Temperature Rise, T/C Slaving, and Hot-Swappable Control Cards.
With the numerous inquiries and requests from our customers, AceTronic has expanded our manufacturing space to welcome our Cable Assembly line. From the standard cable; 5, 8, or 12 zones Mold Power or Thermocouple cable with either 10 or 20 ft. in length – to a completely customized solution specific to your application… we are at your service!
The growing demand for dependable and easy to maintain water temperature controllers led us to the development of AceTronic's Thermocline® unit. The Thermocline® unit will circulate water through the process applications to ensure even temperature control. Thermocline® provides an increase in the precision of process temperature control, an efficient and safe way of maintaining the proper temperatures throughout your mold. For fast, reliable and accurate response to process changes the Thermocline® will adjust accordingly for maximum control performance.
To complete the scope of AceTronic's comprehensive offerings, we sell one of the largest selections of heaters in the industry including but not limited to; Band, Ceramic, Cartridge, Strip, Coil, Flange, Cast Aluminum, Silicone and Barrel Heaters…
We also offer full range of control & automation products such as HMI/MMI, PLC, Sensors, Switches, Transformers, Enclosures, Timers and more…
Our Custom Solutions & Services Offerings
AceTronic is an environment that opens the doors to accessibility of our superior quality products, knowledgeable personnel and trained technicians. We want our certified personnel to be considered an extension of your Preventative Maintenance team.
An integral component of AceTronic's offering is in our partnership with our customers to ensure that we consistently understand their needs, both standard and custom. We are reliably the number one choice for providing simple yet unique custom solutions, sourcing standard MRO items, in addition to repair and calibration services.